EuroBrit MotorBikes Australia
EuroBrit MotorBikes Australia Pty Ltd, is a family owned business which specialises in all marques of Italian Motorcycles, - Ducati, Moto Guzzi, Aprilia, MV Agusta, plus the new era Hinkley Triumphs and the King Of Classics "The Vincent HRD".

EuroBrit has operated since 1992 selling new and secondhand spare parts and complete motorbikes throughout Australia and beyond.

We import and export to and from various countries around the world, and have a well developed supply chain and access to a range of manufacturers.

The team at EuroBrit, have a long history, not only as enthusiasts, but also in the restoration of numerous Classics and Modern Thoroughbred Motorcycles

EuroBrit shares in the spirit of Classic Motorcycle Racing, Exhibitions and Events, by offering support and sponsorship to individuals and club events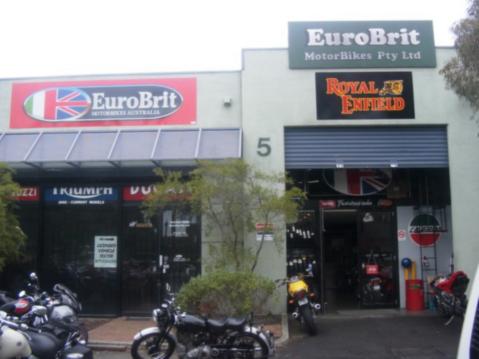 Royal Enfield: Authorised Royal Enfield Distributor & Service Center
EuroBrit MotorBikes Australia Pty Ltd is your Melbourne Agent for the "classic look"
Royal Enfield Bullet.



Benelli: Authorised Benelli Distributor & Service Center
EuroBrit MotorBikes Australia Pty Ltd is your Melbourne Agent for The New LAMS Approved Benelli Motorcycles.

Benelli Australia is proud to bring the very best of Benelli to the shores of Australia with their full range of motorcycles, motorcycle accessories, casual apparel and rider apparel.

Benelli's aspiration to constantly produce individualised Italian engineered and designed motorcycles ensures a bright future for the special marque, that has already been in the business in delighting customers on two wheels for over 100 years.

With a network of highly committed dealers and service agents, along with a factory backed two year unlimited kilometer warranty and two year premium roadside assist*, ensuring a carefree motorcycling experience across Australia and New Zealand.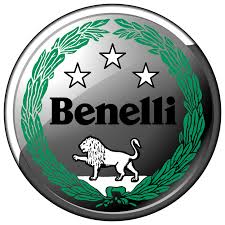 Ural: Autorised Victorian sales and service center.
Ural Outfits. Eurobrit are now the Victorian outlet for ural motorcycle outfits. The only new bike fitted with a factory sidecar on the market. Urals present a unique opportunity to explore your three wheeled adventure in a purpose built outfit that has now been around for 70 years. Colour options and model options to suit most budgets. Sales and servicing of the modern 750 Urals.

Vincent HRD:
Vincent the " King of Classics". Our desire is to supply an increasingly larger range of Complete Vincent Motorbikes, We are the largest stockists of
Quality New Vincent parts
in the Southern Hemesphere. Our Vincent parts inventory is online for your convenience, with the functionality to purchase single or multple items in a secure enviroment. We also stock quality
Secondhand Vincent Spares
and a Restoration Service on an as-needed basis. We do supply Internationally. If we do not have a part Listed please ask for availability.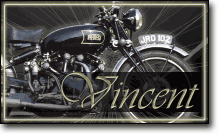 Aprilia: Authorised Aprilia Service Agents
Aprilia is a name synonymous with Italian and International Superbike Racing. It is the pinnacle of European Motorcycling. From 125cc to 990cc, EuroBrit provides quality Repairs, Rebuilds and Secondhand Motorcycles. As Authorised Agents for Aprilia, we have Genuine Parts, Factory-Trained Technicians, On Line Diagnostics and Service Tooling.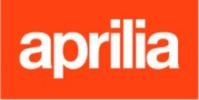 Moto Guzzi: Authorised Moto Guzzi Service Agent
Moto Guzzi: A Name that Represents the History and Passion of Italy's Automotive Industry. Always considered "The People's Bike". Of later years it has reached Classic Bike and Italian Superbike Status. The new models demonstrate State-of-the-Art use of Automotive and Electronic Technology in Balance with Traditional Design Philosophy. As Authorised Moto Guzzi Agents, we can supply New and Secondhand Bikes, Repairs and Rebuilds, New Parts and Secondhand Rare Parts. The Legend Lives on!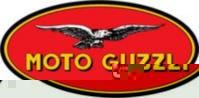 Ducati:
We are Ducati Specialists. From the first Ducati Bevel, the Roundcase
Ducati 750 GT
and 750 Sport through to the 74 Ducati 750 Greenframe and Imola models the bar was lifted on the track and streets. In 1975 the Ducati Squarecase 900SS models appeared and again Ducati had raised the standards. Futher models include the Ducati 860 GT/GTS, 900SD, 900SSD,the Classic race tuned Ducati MHR and Mille1000. We at EuroBrit specialise in stocking new and used parts for
Ducati bevels.
We also sock new and used parts for later
Belt Driven
Superbikes. New and
Secondhand Ducati Parts
are the backbone of business activity at EuroBrit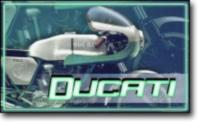 Late Model Triumph
Triumph MotorBikes have recaptured the Imagination of the Traditional Motorcyclists who remember the British Quality of Good, Basic Engineering. State-Of-The-Art Technology, coupled with Classic Motorcycle Styling, has recreated a Dependable British-built MotorBike. We at EuroBrit are proud to supply Secondhand Spare Parts for most models. Repairs and Rebuilds, Servicing and Tuning - we do it all for the New Generation of Triumph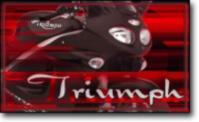 MV Agusta
A name synonymous with Racing has been 'born again' through the creation of a Modern Classic Italian Superbike. The re-introduction of the MV Range of F4's has supplied Motorcyclists with a new facet of Italian Superbikes. EuroBrit can provide Secondhand examples of the F4. Servicing, Repairs and Secondhand Spares are available through learned Technicians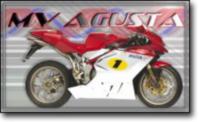 Morris, Penrite and Motul Oils and Lubricants -
Check out our Wide Range Here
We supply a wide range of Morris, Penrite and Motul Lubricants and oils ranging from MLR to SAE Motor Oil, AG Gear Oil, Fork Oil and a variety of Morris, Motul and Inox Sprays. Check out the latest products to keep your bike lubed up and ready to go!