About EuroBrit MotorBikes Australia Pty Ltd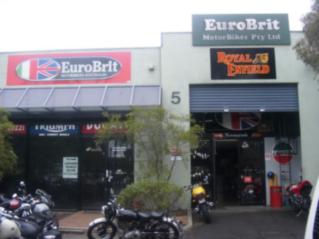 EuroBrit MotorBikes Pty Ltd. is a family owned business which specialises in all marques of Italian and British Motorcycles,

Ducati, Moto Guzzi, Aprilia, MV Agusta, Laverda, plus the new era Hinkley Triumphs, Royal Enfield, and the " King of Classics" The Vincent HRD, and other desirable classics.
EuroBrit has operated since 1992 selling new and secondhand spare parts and complete motorbikes throughout Australia and beyond.
We import and export to and from various countries around the world, and have a well developed supply chain and access to a range of manufacturers.
The team at EuroBrit, has a long history, not only as enthusiasts, but also in the restoration of numerous Classic and Modern Thoroughbred Motorcycles.
EuroBrit shares in the spirit of Classic Motorcycle Racing, Exhibitions and Events by offering support and sponsorship to individuals and club events.